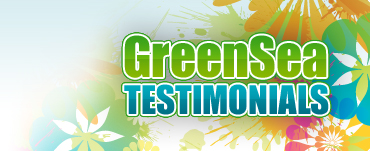 Testimonials
Ashley - Wembley
Great service from you guys, thanks.



Andy - Glasgow
Thanks for the speedy service my kit was wrapped well.



Tom - Leicester
Tried many shops over the years, most ok but I am glad I finally found GreenSea.



Matt - Manchester
I have been buying bits from you for a while now and I would like to say thanks to you all for the service you have provided me with.



Simon - Birmingham
Great prices, discreetly wrapped and delivered quickly, just what us growers need. Thanks.



Sandra - Scotland
I have enjoyed shopping with GreenSea for quite a while now and intend to continue, as you always have what I want in stock and I get it when I want it. A big thanks to all the team.



Don - Suffolk
Thanks for the advice you gave, it seems to have worked a treat.



Pete - Wales
Your service is very good, my products were wrapped extremely well.



Natty Dread - North London
Shopped wit you guys few times now, good service, One Love



Robert - Cambridge
Hi GreenSea, just a quick note to say thanks, you are true to your word and I received my order first thing this morning, very pleased.



Belinda - Norfolk
Hi, just wanted to say thank you for the help and advice.



Fred - Somewhere
GreenSea you are number 1 for service.



Fraggle - London
Thank you for packaging my parcels so well.



Jim - Oxford
I ordered some bits yesterday, didnt think they would be here today, good service thank you.



Anthony - Nottingham
GreenSea, products prices packaging and delivery, excellent 10/10.



Dan - Telford
It is nice to have a reliable shop to deal with, correct products arrive quickly.





Thanks from us all @ GreenSea Hydroponics
We would like to thank you all for your comments about GreenSea and the service we provide, we hope to offer the same service to many more growers in the UK.

Be safe, be happy and keep on growing