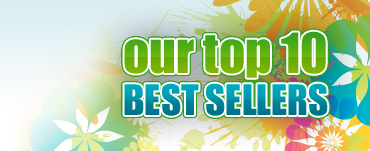 Best Sellers
The Aero 4 Potz system is designed for the hobby grower and it can fit neatly into a 1.2 metre grow tent with the reservoir placed outside, using one 600w light to cover your 4 plants below. Extreme fast growth and yields are delivered with this system, even if you are a novice grower. Supplied with Ecotechnics minute timer.
From: £375.00
This great little hydroponics DWC system is now available with or without the air pump and stones, with the drain tap also optional. This allows you to supply your own air system for just one DWC Potz or you can use a larger air pump with a manifold fitted to supply air to as many DWC Potz that you wish to use.
From: £15.00
The SMS Smart Fan Controller is the perfect unit for any grower who wishes to control one fan and maintain their grow room environment with more precision. The technology in this unit is designed to speed up or slow your fan down to maintain the required temperature accurately, so all you do is set the dials.
From: £74.95
Clip on fans are great for providing air movement around your plants in very small grow rooms. These clip on fans have a strong clip to hold them in almost any position and they can easily be turned to suit the direction you require. They have two speed settings and are ideal to use inside any grow tent.
From: £11.00
Plagron Terra nutrients are a one part formula, designed to be used with soil. Plagron Terra grow provides your plants with all they need to become big, strong and very green. Plagron Terra bloom contains essential elements critical for the flowering period to help deliver the best results possible from your garden.
From: £6.50
If you tend to work in your growroom when your lights are on, you will know how powerful and blinding the lights can be. Lumii Growroom Lenses solve this problem by blocking the intense red light to allow you to see in a clear daylight, making it far easier to work and leave the room with no blinding spots in your eyes.
From: £14.50
Plant Magic Plus Root Stimulant greatly increases the biological activity in your plants root zone. This root stimulant will initiate rapid root growth with your young plants and will also assist with nutrient uptake as well. The use of this stimulant from an early stage, will lead to much bigger and stronger plants developing.
From: £9.85
Plagron Light Mix is our favourite soil and also our customers and thats not just because of the price. It has only a small amount of nutrients added into the mix and this makes it a perfect potting soil for those who wish to fertilize their plants according to their own judgement and choices, we highly recommend it.
From: £9.75
Root pruning pots encourage the internal root structure of your plants to develop a lot more than normal pots. As the roots become visible from the slits they are air pruned, which makes your plants root structure grow more internally, enabling your plants to uptake more nutrients that are applied to produce a better yield.
From: £1.00
SunMaster dual spectrum HID lamps from Venture Lighting are great for those on a budget as they will provide your plants with the correct combined spectrum of light for growing and flowering, saving you the cost of purchasing a seperate MH and HPS lamp. These dual lamps are available in 150w, 250w, 400w, 600w.
From: £16.00