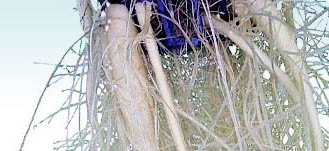 Home Hydroponics

HYDROPONICS AT HOME
Home Hydroponics has become very popular in recent years with many people turning to this method of plant cultivation to grow their own fruits, flowers, vegetables and herbs in the comfort of their own home.
Home
Hydroponics
can sound quite daunting to some who have never encountered this method of growing plants and many people may think it is mad to grow a plant without any soil involved, but that's where they are wrong. The benefits from hydroponically grown plants, is simply quite amazing when compared to the same type of plants grown in soil. The growth rate is extreme and also the yields are much better and it is all down to the way your plants are grown.
Hydroponics supplies the nutrients directly to the roots of the plants and hydroponic growing media allows a lot more air to flow around the roots, when compared to soil and these are the main reasons for its success.
SETTING UP YOUR HOME HYDROPONICS GROW ROOM
Many people think a home hydroponics grow room will take up to much space and unfortunately they don't investigate it any further, but nowadays things have developed and the equipment available can require much less space than you could imagine. A small corner of a spare room can be transformed with a grow tent for your enclosure, concealing all your equipment and plants inside and a grow light and extraction kit can be hung up top to allow plenty of room below for your plants to flourish.
You can even use a garage, loft or shed to construct your grow room in, but outdoor buildings will probably require heating more when your lights are off.
WHAT YOU NEED FOR HYDROPONICS AT HOME
Hydroponics at home requires a room, cupboard or grow tent to be used for the enclosure as you will need to keep your plants in total darkness when your lights are off.
Plants require light to grow, so you will need a grow light to provide artificial sunlight to your plants. Grow lights emit heat which will build up in your grow room and raise the temperatures to high so you will need to remove the hot stale air with an extraction kit and it is also wise to supply clean fresh air into your grow room with a fan and some ducting.
Finally you will need a
Home Hydroponics Kit
and some nutrients. There are many types of systems available, but basically it will be the one that fits your space the best.
FOUR BASIC RULES FOR HYDROPONICS AT HOME
These are the four basic rules to remember for home hydroponics that your plants will require and they will help you on your way to grow and harvest your first crop.
LAWN
L - Light
A - Air
W - Water
N - Nutrients
If these are all supplied correctly to your plants you won't go far wrong with your first attempt at home hydroponics and you will soon be sowing the seeds for the second.