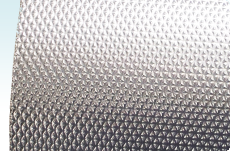 Growroom Reflective Sheeting
Plants grown indoors with hydroponics will depend on a good source of light all around them, to grow fast and flourish. Lighting is hung above your dense plant canopy, but not at the sides and this will affect the bottom growth not developing as well as the top. The best way to resolve this is to hang some reflective sheeting around the walls of your room or a frame if you wish to make one and this will bounce the light back towards your plants and increase the light below the canopy.
This high quality black and white sheeting will provide basic reflection and protection for your plants and can be used to line your growroom walls or more commonly to cover your floor. Black and white sheeting is also great to make your own small growing enclosure with the use of our grow tent fittings and some poles.
From: £1.45
Silver Mylar is the most popular sheeting used to cover growroom walls. Its design bounces the light back towards your plants and at 95% reflectivity it does that very well. When hanging this sheeting it is essential to keep it nice and smooth to bounce the light back evenly to prevent any hot spots from your light forming.
From: £2.25
Megalux Diffusion Foil sheeting works in a very similar way to a basic horticulture lighting reflector, as the embossed pattern printed into the sheet helps to bounce any light back far more evenly and efficiently to your plants than any other standard silver sheeting we have ever used and tested.
From: £3.50