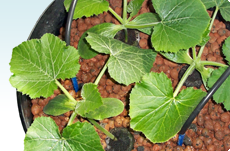 Hydroponics Starter Kits
If you wish to grow your plants hydroponically but are new to this method of plant cultivation, take a look at our hydroponics starter kits below. These kits have all been assembled with the beginner in mind and they supply all the basic items you will need to get growing. A good quality grow light with a contactor and timer to safely switch the light on are supplied, with a choice of hydroponic systems, nutrients, boosts and accessories that you will need to propagate, grow and flower your plants.
This starter kit allows you to grow 1 plant with Deep Water Culture, a most reliable method for hydroponics. The kit includes a DWC 1 Potz System with a propagator, plugs and pebbles, 250w HID grow light, contactor, timer, accessories and a choice from either Canna or Plant Magic Plus nutrients and additives.
From: £195.00
This starter kit comes with a Drip 1 Potz System, which can be used to grow in soil or for hydroponics. A 250w grow light kit is supplied with a contactor, timer, Eazi rolls and some accessories as well. You also have the choice between Canna Aqua nutrients with clay pebbles or Biobizz Bio nutrients with Biobizz All Mix soil.
From: £223.50
This hydroponics starter kit comes with an NFT GT205 complete kit, which can hold from 1-3 plants. A propagator is provided for you to get your plants started in, with Rockwool growing media, a 250w grow light kit, contactor and timer, and you also have a choice from either Canna or Plant Magic Plus nutrients and additives.
From: £224.00