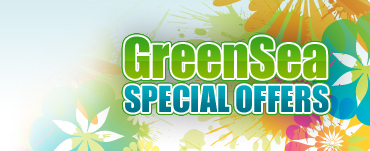 Special Offers
Tarantula is a beneficial bacteria. Tarantula is a 100% pure organic pioneering product that contains the highest concentration of beneficial micro organisms of any plant growth product we know of and is great to use on all types of growing media and hydroponic systems.
Was £50.00
Price £35.00
Bio Harvest Bio Stimulant is a 100% natural root growth promoter that is packed full of beneficial bacteria and is a great product for organic growing. The beneficial bacteria colonise your plants root zone to improve root growth, plant growth and health, giving them a great start in life.
Was £19.95
Price £8.00
The Bluelab PH meter is a handheld, lightweight and portable unit, that is used to accurately measure the PH value of your nutrient solution. Just simply turn the meter on and place the PH probe into the nutrient solution and immediately the PH value will be displayed on the large screen for you to easily read it.
Was £120.00
Price £95.00
Vitalink Easy nutrients are available in a grow and bloom, one part formula. Vitalink Easy Grow nutrient will provide your plants with enough nitrogen and other essential elements, critical for this stage and Vitalink Easy Bloom will ensure your plants have all the correct elements they need, during their flowering period.
Was £19.50
Price £15.00
Vitalink Max is a two part hydroponic nutrient that was specially developed in the UK and it has under gone many tests, proving to be a reliable, well balanced nutrient formula that helps to max your plants for the best results possible and Vitalink Max has been a top seller for many years now, because of this.
Was £9.75
Price £6.50
Plagron Phyt-Amin is a nutrient that is diluted with water to make a foliar spray that can be applied weekly to your plant foliage, to help stimulate chlorophyll production and also the plants sugar production. The use of Plagron Phyt-Amin will help to produce a far more intensive flavour from your edible crops.
Was £18.95
Price £12.00
Indoor hydroponic gardening with Rockwool is a very popular method and offers a clean, disease free substrate to grow your plants in quickly and easily. This book gives a clear understanding of how to use rockwool and the benefits you can achieve.
Was £10.95
Price £5.50
These high quality well manufactured fan brackets are suitable for mounting your RVK inline fans very quickly and easily. Fix the bracket to a wall or a ceiling and the fan can be simply pushed into place and also removed for maintenance very easily without removing your ducting.
Was £10.00
Price £6.00
Advance Nutrients Organic B vitamins are a supplement that can be used for soil and hydroponics and also as a foliar feed. Organic B is made up of three unique yeast extracts that contain amino acids, proteins, trace elements and together give a balanced feeding of 7 B vitamins.
Was £27.00
Price £18.00
These high quality plastic plant cloches allow growers to keep humidity levels high while raising young seedlings or cuttings. They can be pinned to the ground for outdoor use and placed on large pots indoors. A vent is fitted on the dome to control the levels of humidity inside.
Was £4.50
Price £3.50
Vitalink Biopac enriches your water and your growing media in your hydroponics system with many beneficial microbes, to establish a population of beneficial bacteria around the root system of your plants. Vitalink Biopac will help to promote very healthy, green growth and also a much better yield from your plants.
Was £11.85
Price £8.50
Bio Link Plus is packed full of beneficial microbes and fungi that can assist your plants in many ways, improving the nutrient uptake, growth and strengthening the cell walls of the plants to aid them against any attacks from insects. Bio Link Plus can be used for soil, coco and also hydroponics in any growing system.
Was £7.75
Price £5.50
Vitalink Bio Plus contains a mixture of natural plant hormones, vitamins and many beneficial microbes that will help to incredibly increase the root mass and root health of your young plants. Vitalink Bio Plus will also help to protect your plants delicate root systems against attacks from any nasty diseases.
Was £15.75
Price £12.00
Vitalink Foliar is a calcium rich foliar feed nutrient, that helps your plants to become much stronger and more resistant to any attacks from pests and diseases. Vitalink Foliar now also contains Tea Tree Oil, a natural anti fungal ingredient that helps to keep your plants very strong and also allowing them to perform at their best.
Was £19.95
Price £15.00
Co2 provided indoors to your garden can significantly increase the health and yield from your plants. This is a very good book that is easy to read and is all about enriching your plants with the gas Carbon Dioxide. If you are planning to use Co2 then we recommend this book highly.
Was £10.95
Price £5.50
If you are planning to keep a donor plant for cuttings to be taken from you may need some help and advice for setting up a propagation room. This book offers a step-by-step guide for building a propagation room to take and grow your very own plant cuttings.
Was £10.95
Price £5.50
The Aero 8 Potz system can be housed in a 1.2 x 2.4 metre grow tent and requires at least two grow lights to cover your plants. This aeroponic system is designed to re-circulate the nutrient solution but it can be run to waste by simply moving the return pipe from the reservoir to another tank. Supplied with minute timer.
Was £475.00
Price £435.00