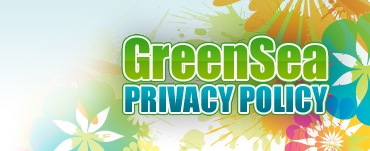 Privacy Policy
GreenSea Hydroponics & Plant Lighting Limited, referred to hereafter as GreenSea, is committed to protecting your privacy. That is why we have adopted this Privacy Policy. This Privacy Policy is intended to describe how your personal information is processed and used.


1. Why do we have a Privacy Policy?
We have developed this policy because we want you to feel confident about the privacy and security of your personal information. GreenSea takes all reasonable care to prevent any unauthorised access to your personal information.

When we refer to 'personal information' in this Privacy Policy, we mean information which identifies you as an individual, or is capable of doing so.

Please read this Privacy Policy carefully. By visiting our website or using any of our services and continuing to do so you indicate your agreement to our use of your personal information as set out in this Privacy Policy.

2. What does this Privacy Policy cover?
This Privacy Policy only applies to how GreenSea deals with your personal information. It does not apply to any other company or to any other company's websites even if you access them through GreenSea. If you disclose your personal information to other companies your information will be dealt with according to their privacy practices.
3. Your consent.
Please note: in using the GreenSea web site, you consent to the collection and use of this information by GreenSea in the ways described below.

4. What personal information do we collect about you?
We will collect your name, delivery address, contact telephone number and email address to take and fulfil your order.
5. For how long does GreenSea keep personal information?
In some cases, there are legal requirements to keep data for a minimum period. Unless there is a specific legal requirement for us to keep the information, we will retain it for no longer than is necessary for the purposes for which the data was collected.
6. How GreenSea protects your personal information.
We are serious about guarding the security of your personal information and the details of any transactions made. As required by the UK Data Protection Acts of 1984 and 1998, we follow strict security procedures in the storage and disclosure of information which you have given us, to prevent unauthorised access.

GreenSea Hydroponics Privacy Policy applies to information collected when you use our website.

If you provide information via the "contact us" or any other interactive feature, you indicate your consent to our use of your personal data in the manner described in this Privacy Policy.

7. What about cookies?
A "cookie" is a text file which is allocated by our server to your personal computer (PC) when you visit our website. If you want to know more about cookies please go to www.allaboutcookies.org which explains how cookies work and how you can manage their use.

A cookie cannot read data from your hard disk or read cookie files that may have been created from other sites.

Cookies are used on this online shopping site to keep track of the contents of your shopping basket, to store delivery addresses (if the address book feature is used) and to store your details if you select the 'Remember Me' option. They are also used after you have logged on as part of that process.

GreenSea Hydroponics cookies do not collect any information regarding the use of your PC or your Internet browsing in any way.

Our servers use two different types of cookies. The first type is known as a "session-based" cookie and is allocated to your PC only for the duration of your visit to our website. This cookie automatically expires when you close down your browser.

The second type of cookie is known as a "persistent" cookie. Use of our website creates persistent cookies which remain on your PC for a period of time. We use these persistent cookies: -

CART_CONTENT
This cookie allows our website to show you a summary of your shopping basket as you browse our pages. It expires after three hours.

ACTINIC_CART
This cookie allows our website to identify you as a return visitor if you've previously visited our site. This ensures that the website retains the contents of your shopping basket until you're ready to make a purchase.

ACTINIC_CONTACT
This cookie automatically enters your contact details in our website's order form when you place an order. This cookie is set if you have previously ordered through our website and clicked the "remember me" option at the time. Please note that we never store any payment information such as your credit card details.
8. How to disable cookies.
All types of cookies can be removed from your PC but some significant features of the GreenSea Hydroponics website will be unavailable to you.

Your browser lets you choose whether to accept, not to accept, or to be warned before accepting cookies. Please see www.allaboutcookies.org for full details of how to disable cookies in all major web browsers. Your browser's help feature will also show you how to disable cookies.

9. How third party site cookies are covered by this policy.
At no point does our website create any third party cookies on your machine.

If you have an enquiry or concern about our Privacy Policy, please contact us,

GreenSea Hydroponics
Unit 1g, Gregory Road
Mildenhall
Suffolk
IP28 7DF

Tel : 0845 6024086
Fax : 01638 715350
Mob : 07833 544226
Email : info@greensea.biz